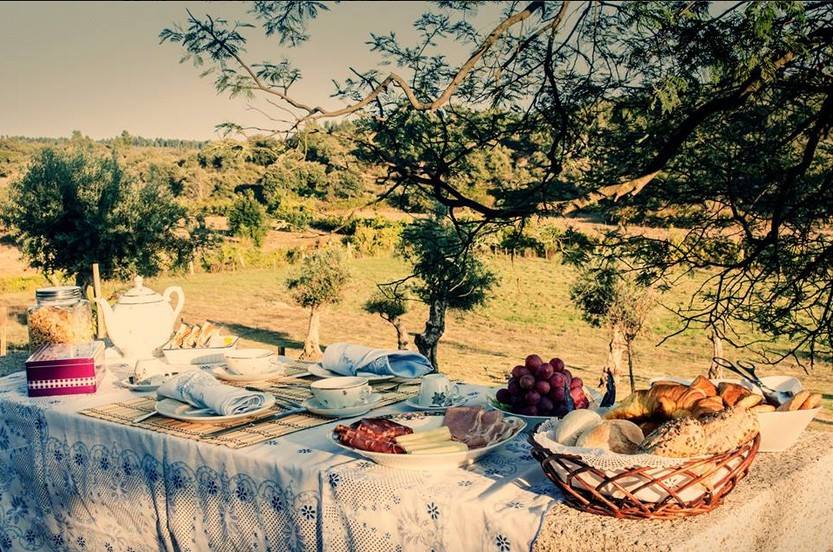 Who to turn to the east of the city of Castelo Branco ,will find within in her limits, the Fonte Santa´s road. If we go for it , we find an almost lunar landscape. Large granite blocks around the field to which the people call "lincheiras." After 8,400 meters of asphalt from the downtown appears to us a blue gate with the inscription: "Monte da Fonte Santa de S. Luís. "It's here!
A granite house with 4 bedrooms: 2 double, 1 twin, 1 family and a recently restored old barn where breakfast is served daily with homemade and regional products.
Here you can rest from the technologies, a weak mobile network and no wifi.
Within the property you can hike and visit the Medieval Graves and Apiary and the Roman Baths. Experience a sulphurous thermal bath in the hot springs and observe and interact with farm animals or just relax, listening to the sounds of nature.

At any time, it's good staying at Country´s House or in just a room (Rural Tourism - RNET 4741).
In cold weather, you can stay at the fireplace to roast a sausage.If the warm weather, enjoy the shade seeing the viwes. At night, it's nice to be talking in the company of crickets and frogs.
And look! ... If you get boring of the field, go to the city ....
Book directly through our email or telephone contact and we make a DISCOUNT on the total cost of your stay of B&B.
A program directed to all institutions of pre-school education and 1st Cycle. Contact us for more information.
In November we lowered the prices in double rooms. Enjoy.